OHI Pomegranate Extract is the extract of the peel of the Pomegranate (Punica granatum L. ), the active ingredients including pomegranate polyphenols, Punicalagin(α+β), Ellagic Acid etc. Pomegranate peel extract is a natural substance sold in dietary supplement form. Sourced from the peel of the pomegranate fruit, it's often touted as a top source of antioxidants (including Vitamin C). Use of dietary supplements containing pomegranate peel extract is said to provide a wide range of health benefits, including improvements in heart health.
Basic Information of Pomegranate Extract
Name : Pomegranate Extract
Latin name:Punica granatum L.
Ingredient: Punicalagin(α+β),Ellagic Acid, Polyphenols
Specfication :

30%, 40% Punicalagin (Alpha+Beta HPLC)
Polyphenols 30%-70%
Ellagic acid 0.1%-1% HPLC/UV

Test methods:UV-VIS / HPLC
Molecular Formula:C14H6O8
CAS No.: 65995-64-4
Molecular Weight:228.25
Appearance: brown yellow powder
Standard: GMP,Kosher,HALAL,ISO9001,HACCP.
The Source
The pomegranate, botanical name Punica granatum, is a fruit-bearing deciduous shrub or small tree growing between 5 and 8 m (16 and 26 ft) tall. In the Northern Hemisphere, the fruit is typically in season from September to February, and in the Southern Hemisphere from March to May. As intact arils or juice, pomegranates are used in cooking, baking, meal garnishes, juice blends, smoothies, and alcoholic beverages, such as cocktails and wine. The pomegranate originated in the region of modern-day Iran and has been cultivated since ancient times throughout the Mediterranean region and northern India. It was introduced into America (Spanish America) in the late 16th century and California by Spanish settlers in 1769.
Today, it is widely cultivated throughout the Middle East and Caucasus region, north Africa and tropical Africa, the Indian subcontinent, Central Asia, and the drier parts of southeast Asia. It is also cultivated in parts of California and Arizona. In recent years, it has become more common in the commercial markets of Europe and the Western Hemisphere.
What's Pomegranate Extract
Compared to the pulp, the inedible pomegranate peel contains as much as three times the total amount of polyphenols, including condensed tannins, catechins, gallocatechins and prodelphinidins. The higher phenolic content of the peel yields extracts for use in dietary supplements and food preservatives. The most abundant phytochemicals in pomegranate juice are polyphenols, including the hydrolyzable tannins called ellagitannins formed when ellagic acid and/or gallic acid binds with a carbohydrate to form pomegranate ellagitannins, also known as punicalagins. The red color of juice can be attributed to anthocyanins, such as delphinidin, cyanidin, and pelargonidin glycosides. Generally, an increase in juice pigmentation occurs during fruit ripening. The phenolic content of pomegranate juice is adversely affected by processing and pasteurization techniques
Main Function
Pomegranate extract used to resist atherosclerosis and tumour;
Pomegranate extract will resist to anti-oxidance, senescence inhibition and skin whitening;
Pomegranate extract can treat kinds of symptoms caused by high blood sugar, hypertension;
Pomegranate extract has the useage of anti-oxidant, coagulant, descenting blood pressure and sedation;
Pomegranate extract can restrain to human immunodeficiency virus(HIV) and many kinds of microbe and virus;
Pomegranate extract has the effective on anti-cancer of rectum and colon, esophageal carcinoma,liver cancer,lung cancer,carcinoma of tongue and skin.

Application
In alternative medicine, pomegranate peel extract is said to help treat and/or prevent the following health problems:
colds
cough
diabetes
gum disease
high cholesterol
sore throat
In addition, pomegranate peel is thought to promote detox, protect against heart disease, fight cancer, shield your skin from sun damage, and offer anti-aging benefits.
Don't Miss Your Chance to:
Get Free Sample;
Enjoy All-inclusive packages include TDS,COA, MOP, MSDS etc;
Source the latest innovative products;
Unconditional refund if unqualified;
Keep up to date with the latest trends;
Test and analyze your ingredients free of charge;
Includes free entry to our trade show.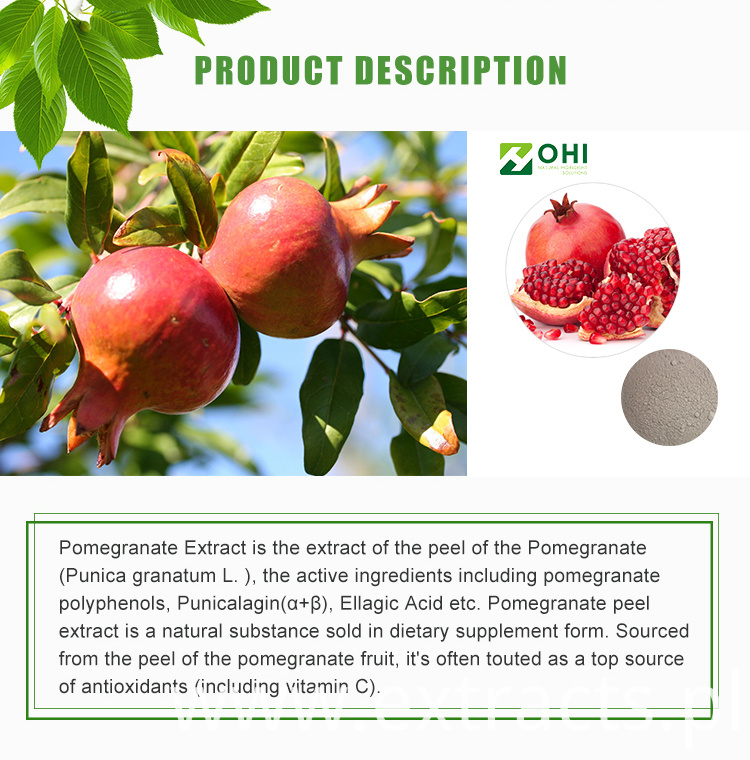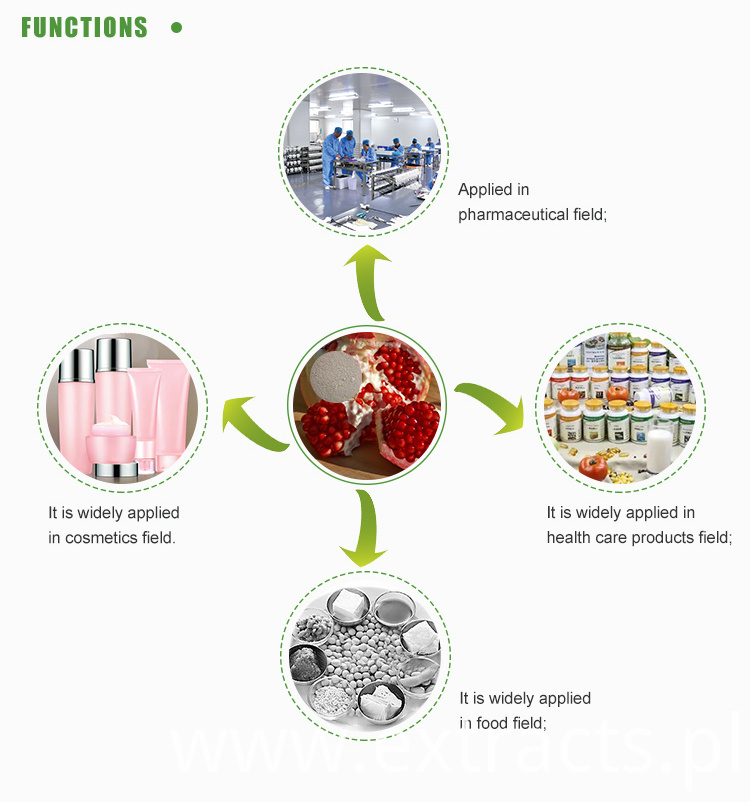 Looking for ideal
Pomegranate Extract Powder
Manufacturer & supplier ? We have a wide selection at great prices to help you get creative. All the Pomegranate Peel Extract are quality guaranteed. We are China Origin Factory of Pomegranate Extract Punicalagin. If you have any question, please feel free to contact us.
Product Categories : Woman Health Ingredient