Organic Herb Inc 4-hydroxyisoleucine product is a kind of non-protein amino acid which is naturally presented in the legume fenugreek plants. We extract the 4-hydroxyisoleucine seed of Trigonella foenum-graecum L. CFunction a. To promote the role of insulin secretion. b. Improve muscle strength lean muscle mass. c. Lowering the cholesterol level. Pharmaceutical Intermediate
4-hydroxyisoleucine, a natural phytochemical extracted from the Fenugreek herb, has been scientifically shown to increase carbohydrate storage in muscle cells while decreasing carbohydrate fat storage through the sensitizing of insulin receptors in muscle tissue. Pharmaceutical Intermediate
4-hydroxyisoleucine has also been shown to interfere with the process by which the body converts muscle protein to sugar for energy. This encourages fat loss (instead of muscle break down) and aids in the retention of calorie-burning lean muscle as you lose fat.
Name : Fenugreek Extract
Source: Common Fenugreek
Botanical Name : Trigonella foenum-graecum L.
Extract part: Seed
Spec : 5%,40%,60%, 98% 4-hydroxyisoleucine HPLC
Molecular formula: C6H13NO3
Molecular weight: 147
CAS No.: 55399-93-4
Appearance: Fine Brownish yellow powder
Country of origin: P.R. China
The Source:
Fenugreek also known as Greek Hay and Fenigreek is an annual Mediterranean-and-Asiatic-origin plant in the family Fabaceae ,with aromatic seeds that are primarily used as a culinary spice and it is also used as a herbal medicine in many transitional therapy in in Egypt, Greece, Italy, and South Asia.It grows to two feet in height with brownish seeds contained in sickle shaped pods. Pharmaceutical Intermediate
Fenugreek is one of the primary supplements used to support type II diabetics or noninsulin-dependent diabetes mellitus (NIDDM). The seeds are rich in protein and contain about 50% fiber and 25% soothing mucilage. Fenugreek Seed helps by not only reducing blood sugar levels with its high concentrations of phytochemicals, but it has also helped reduce low density cholesterol's and triacylglycerols.
Functions
To promote the role of insulin secretion

Improve muscle strength and lean muscle mass

Lowering the cholesterollevel
Product Applications
Fenugreek seed possess high nutritional value as well as pharmacological value . Fenugreek is used for digestive problems,high blood cholesterol and triglycerides levels,kidney ailments,cancer, and lowering blood sugar in people with diabetes.
In foods, fenugreek is included as an ingredient in spice blends. It is also used as a flavoring agent in imitation maple syrup, foods, beverages, and tobacco.Health & Medicine
In manufacturing, fenugreek extracts are used in soaps and cosmetics.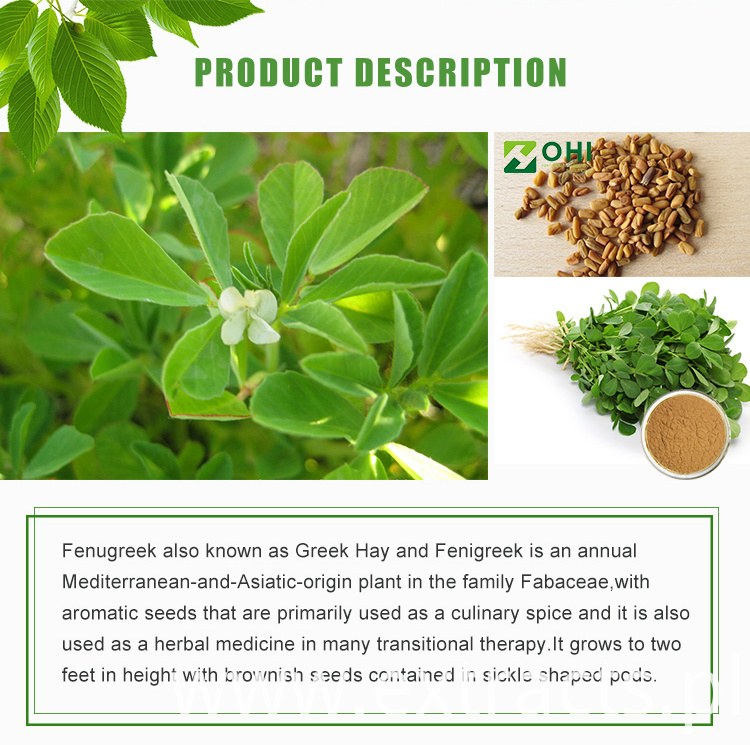 Looking for ideal Fenugreek Extract Powder Manufacturer & supplier ? We have a wide selection at great prices to help you get creative. All the 4 Hydroxyisoleucine 4-OH-Il are quality guaranteed. We are China Origin Factory of Common Fenugreek Powder. If you have any question, please feel free to contact us.
Product Categories : Woman Health Ingredient