Green Tea Extract Polyphenols is extract from the leaf of green tea (Camellia sinensis ). The main active ingredient of Tea Extrac is polyphenols. Tea polyphenols are chemical compounds such as flavanoids and tannins found naturally in tea. Depending on how the tea is harvested, handled, processed, and brewed, the polyphenol level in the tea can vary. These chemical compounds are believed to be beneficial to human health, and they are the basis of many claims made about the health benefits of tea. As with many natural compounds which appear to be beneficial to human health, it is difficult to isolate and study tea polyphenols on their own, and some researchers have suggested that their actions in the body may actually be the result of several compounds working together.
Basic Information of Green Tea Extract Tea Polyphenols
Product Name: Green Tea Extract
Botanical Name: Thea viridis
Part Used: Leaf
Active Ingredient: Epigallocatechin gallate (EGCG), Tea Polyphenols etc
Specification:

Tea polyphenol 40%-98% HPLC/UV
Egcg 40%-98% HPLC/UV
Catechin 75%-98% HPLC/UV
Instant tea powder TLC

Test Mothod: HPLC
Molecular Formula: C17H19N3O (Tea Polyphenols)
Molecular Weight: 281.36
CAS No. 84650-60-2

Standard: GMP,Kosher,HALAL,ISO9001,HACCP.
The Source:
A green tea extract is a herbal derivative from green tea leaves (Camellia sinensis). Containing antioxidant ingredients – mainly green tea catechins (GTC) – green tea and its derivatives are sometimes used as dietary supplements and in alternative medicine. EGCG is found in high content in the dried leaves of white tea (4245 mg per 100 g), green tea (7380 mg per 100 g) and, in smaller quantities, black tea. During black tea production, the catechins are mostly converted to theaflavins and thearubigins. via polyphenol oxidases.
About Tea polyphenols
Tea polyphenols is a general name of polyphenols of tea. The domestic and international study of tea polyphenols of many years shows that polyphenols have pharmacological functions such as antioxidant, reduction of hyperlipidemia, hyperglycemia, hypertension, detoxification, and anti-radiation which can effectively prevents radioactive substances invading bone marrow and make the strontium 90 and cobalt 60 rapidly excreted, being named as Enemy of Radiation by healthy and medical communities.
Tea polyphenols (TP) are chemical compounds, being regarded as the most important elements in tea, found naturally in tea leaves. The distribution of polyphenols in tea can vary, caused by the ways how tea is harvested, handled, processed, and brewed. Albeit we can hardly see them with our naked eyes, we can taste them and describe them, that is to say, our tongues are familiar with them. That is way we say this tea taste more bitter/mellower than that one.
The polyphenols account up to 18% - 38% in dry weight. In other words, you can find 100g~200g of these things in 1,000g dry tea leaves. More importantly tea polyphenols are water-soluble, so it can be dissolved in hot water quickly and absorbed easily by us. In fact, these chemical compounds are the basis of many claims made about the health benefits of tea.
As we mentioned above, tea polyphenols is a generic term of many compounds which can be further divided into four main sub-types. It includes catechins, flavonoids, phenolic acids and anthocyans. Among them, the most and the majority (amounts to 70%l) are catechins, which have long been regarded as the major role of tea health value.
Function
Strongly eliminate harmful free radicals, blocking lipid peroxidation process, improving the activity of enzymes so as to resist mutation and cancer;
Prevention and treatment of cardiovascular and cerebrovascular disease with high fibrinogen disease and atherosclerosis;
Improve the body immunity;
Anticancer, antimutation, radiation resistance;
Antibacterial, bactericidal effect. Inhibition of the AIDS virus, and clean the nicotine of lung.
Strong antioxidant effect, positive effect on preservation of food nutrients.
Product Applications
Cosmetics
Body and skin care products
Food additives
Dietary supplement
Traditional medicine
Don't miss your chance to:
Get Free Sample
Enjoy All-inclusive packages include TDS,COA, MOP, MSDS etc.
Source the latest innovative products
Unconditional refund if unqualified
Keep up to date with the latest trends
Test and analyze your ingredients free of charge
Includes free entry to our trade show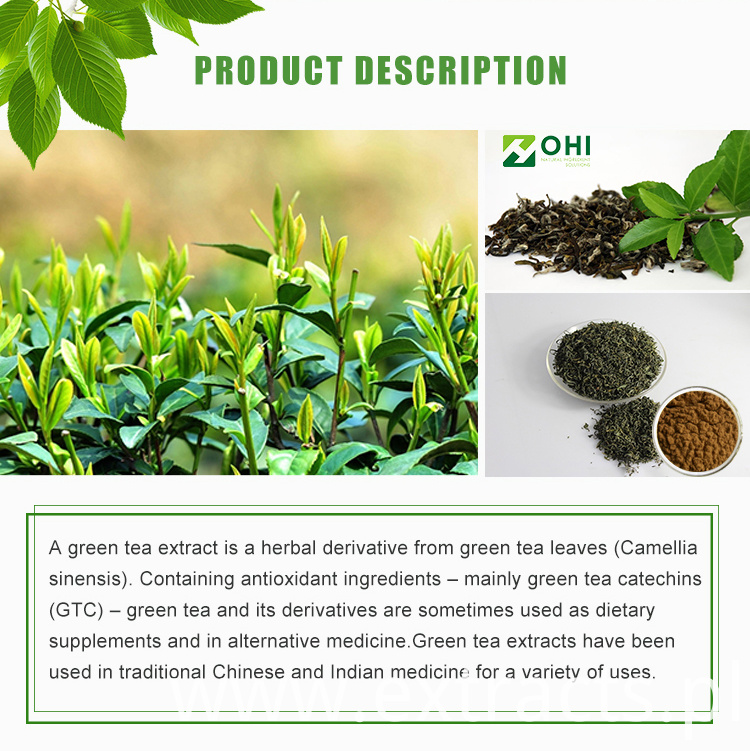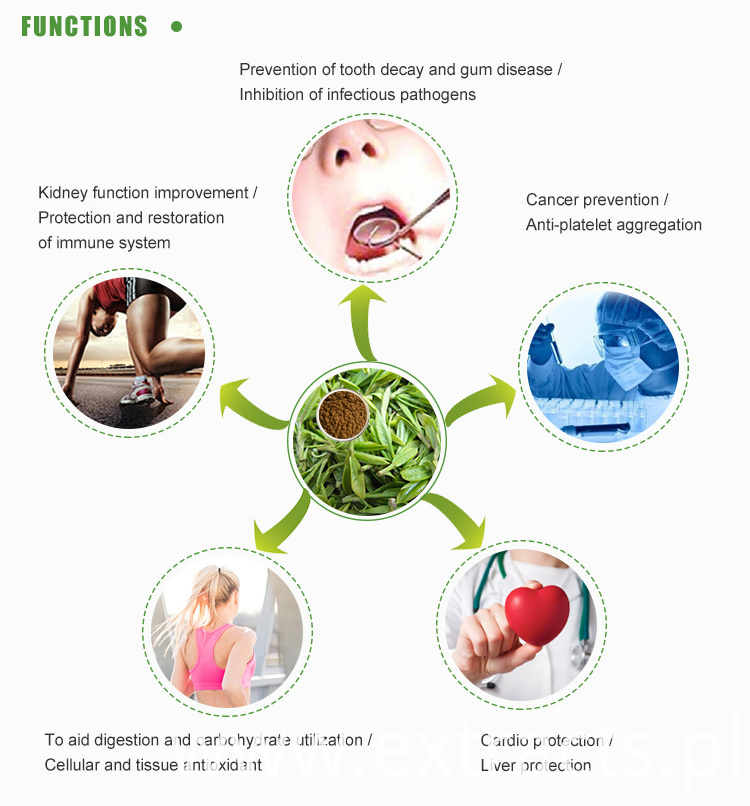 Looking for ideal Green Tea Extract Manufacturer & supplier ? We have a wide selection at great prices to help you get creative. All the Tea Polyphenols Powder are quality guaranteed. We are China Origin Factory of Tea Extract Polyphenols. If you have any question, please feel free to contact us.
Product Categories : Tea Extract Series