What's Grape Seed Extract Olygemeric Proanthocyanidinss (OPCs)
Grape Seed Extract Proanthocyanidins is natural bioflavonoid powder obtained from ground-up seeds of red wine grapes, Vitis vinifera. Recent years , Grape Seed Extract is prescribed by doctors in several European countries as it is rich in flavonoids, phytochemicals that have antioxidant properties. Scientific researches showed strong evidences that grape seed extract is beneficial for a a number of health conditions
Important Reminder: Grape Seed OPC Adulteration
Do you know how serious is adulteration of Grape Seed today ?
Grape Seed Extract(GSE) is a well-known dietary supplement .However, there is a serious adulteration in GSE industry due to the lack of standardized criteria for GSE and rising cheaper proanthocyanidins(OPC) sources.
A scientific study group found that more half of 21 commercially available samples are adulterated with 6 of them are maybe counterfeit. [Very few of the commercial GSE samples contained an overall content of PACs and catechins at a level comparable to authentic GSE, which raises a serious concern," report on Food Chemistry.
Why adulteration of Grape Seed Extract is bad ?
Peanut skin extract and pine bark extract are the most common counterfeits of GSE as they contain high proanthocyanidins .However,there is no scientific evident that these counterfeits possess equal health properties with grape seed OPC ,due to their incongruent proanthocyanidins constituents.Moreover ,using adulteration of GSE with peanut skin extracts may bring serious risk to consumers and the company as Peanut allergy is [one of the most severe food allergies" effecting 1.4% of the population in US.
How to identify adulteration?
The difference between the adulterations and the authentic product is the proanthocyanidins constituents. GSE is found to contain B-type PACs with highest concentrations of catechin and epicatechin while peanut skin extract is composed principally of A-type PACs with negligible quantities of the catechin and epicatechin .Pine bark extract contains both A and B-type PACs, but in much smaller amount than GSE.
Recently , GSE adulteration detection is improving. Organic Herb Inc. developed HPLC Method foridentification of adulteration of GSE.
Chromatogram 1: Natural Grape Seed Extract 95% OPC
The characteristic peaks of seven ingredients in GSE are visible obviously in chromatogram. the seventh gape seed ingredients peak is clear
Chromatogram 2: Adulerated 1% peanut skin extract
Peanut skin peak appear at 12~13min (A type) the seventh OPC peak is not clear
The Source
Grape is a berries from the fruiting vine in genus Vitis.Cultivated as early as 8,000 years ago in the middle east ,grape is one of the most popular fruit with endless ways to consume. Over times ,grape is considered as a healthy food and be thought to help prevent cancer, heart disease, high blood pressure and constipation.Researches showed the shades of grape fruits is determined by anthocyanins and other pigment chemicals which responsible for the color of purple grape.Amount many flavonoids in grape Olygemeric Proanthocyanidinss (OPCs) appeared to be the most valuable composition .Studies showed beyond their antioxidant powers, PCOs are thought to improve blood circulation and help strengthen blood vessels. These actions benefit people with heart disease and cancer.
Basic Information of Our Grape Seed Extract OPC
Name: Grape Seed Extract Proanthocyanidins
Source: Grape Seed
Latin Name: Vitis vinifera
Ingredient: Olygemeric Proanthocyanidinss OPC
Specification: 95%
Test methods: HPLC-UV
CAS No.: 84929-27-1
Appearance: Fine Brown Powder
The main bio-actives:
Olygemeric Proanthocyanidinss, more commonly known as OPCs, are phenolic compounds that found in a variety of plants.OPC are oligomers of catechin and epicatechin.This polyphenol is belong to the flavonoid family and offers multiple beneficial activities including improve blood circulation ,trengthen blood vessels,lower heart rate.In plant extract industry ,the main source of OPC is cranberries, grape seeds or red wine.
Functions:
High Blood Pressure
Prevent certain cancers
Slow down aging process
Treat blood vessel disorders
Fight against inflammation
Treat several respiratory conditions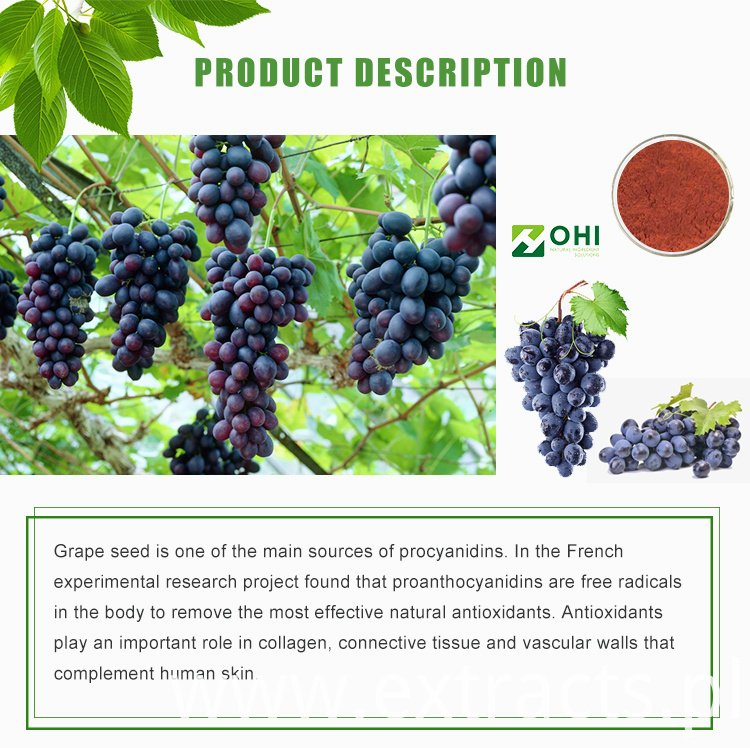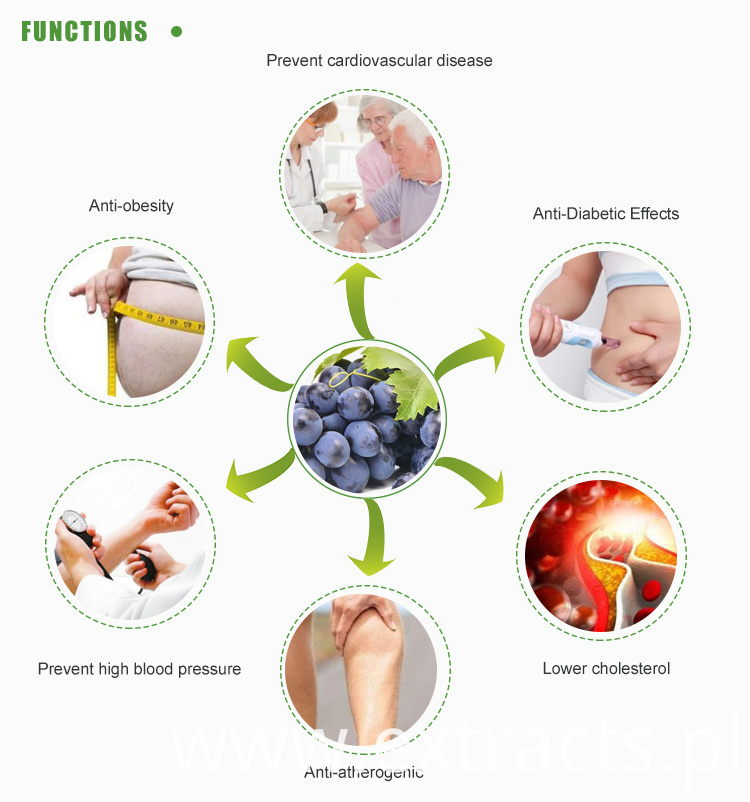 Looking for ideal Grape Seed Extract Manufacturer & supplier ? We have a wide selection at great prices to help you get creative. All the Grape Extract OPC are quality guaranteed. We are China Origin Factory of Proanthocyanidin OPC 95. If you have any question, please feel free to contact us.
Product Categories : Standardized Plant Extracts