What is Rhodiola Rosea?
Rhodiola is a genus of perennial plants in the family Crassulaceae[1] that resemble Sedum and other members of the family. Like sedums, Rhodiola species are often called stonecrops. Some authors merge Rhodiola into Sedum.
Rhodiola species grow in high-altitude and other cold regions of the Northern Hemisphere. Den virtuella floran gives the number of species as 36,the Angiosperm Phylogeny Group gives it as 60, and the Flora of China gives it as about 90, with 55 in China and 16 endemic there.The USDA Plants database lists only 3 species in the United States and Canada.
Among the distinguishing characters of the genus are two series of stamens totaling twice the number of petals; free or nearly free petals (not joined in a tube); a stout rhizome from whose axils the flowering stems rise; and a basal rosette of leaves. This genus contains the only species of Crassulaceae that have unisexual flowers.
The Holarctic species Rhodiola rosea is used in herbal medicine. A number of species are grown as ornamentals, but growing them is difficult outside their native subarctic and alpine climates.
The name combines the Greek rhodon, meaning rose and referring to the rose-like smell of the roots, with the Latin diminutive suffix -iola.
Rhodiola Rosea Extract/ Rhodiola Extract
1, 1%- 10% Rosavin
2, 1%-5% Salidrosides
3, 1%- 5% Rosavin +3% Salidroside
Function:
1. Rhodiola comprises several species of plants in the Crassulacea family and is generally found in the arctic mountain regions of Siberia.
2. The root of the plant is used medicinally and is also known as Arctic root or Golden root and more recently as Crenulin.
3. The key active constituents in Rhodiola are believed to be rosavin, rosarin, rosin and salidroside.
4. Rhodiola has been used for hundreds of years to treat cold and flu like symptoms, promote longevity and increase the body`s resistance to physical and mental stresses.
Application:
Rhodiola roseais very effective for improving mood and alleviating depression,
improves both physical and mental performance, reduces fatigue , and prevents high altitude sickness.
a.Applied in food fields, it is widely used as functional food additive;
b.Applied in health product field, it can be used as Raw Material in health food, the purpose is to enhance immunity and resist melancholy;
c.Applied in cosmetics fields, it is widely used to delay aging and compact skin;
d.Applied in pharmaceutical field, it is widely used to treat cardio-cerebrovascular disease.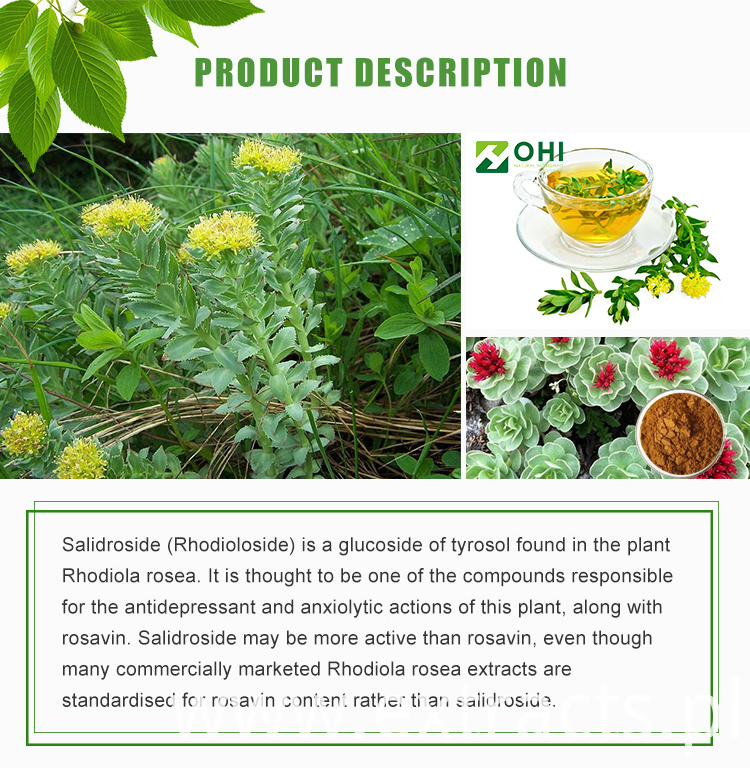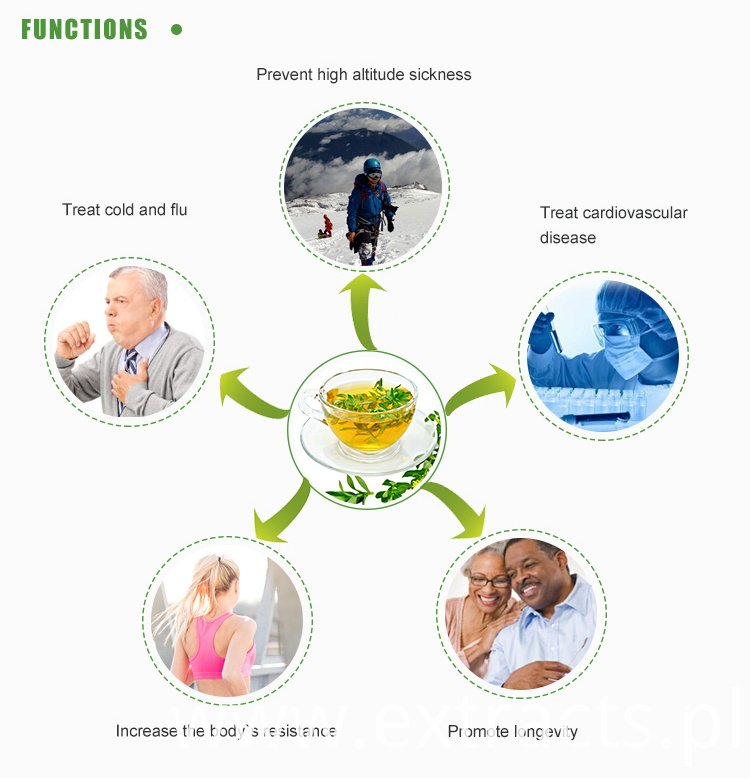 Looking for ideal Rhodiola Rosea Extract Manufacturer & supplier ? We have a wide selection at great prices to help you get creative. All the Rhodiola Extract are quality guaranteed. We are China Origin Factory of 5% Rhodiola Extract. If you have any question, please feel free to contact us.
Product Categories : Ratio Plant Extracts