OHI is one of the leading China Bilberries extract manufacturers, welcome to wholesale cheap Europe Bilberries extract , Bilberry Extract, Bilberry Fruit Powder,Vaccinium Myrtillus Extract from our factory. Bilberries has been used for centuries, both medicinally and as a food in jams and pies. It is related to the blueberry and is native to Northern Europe. Bilberry fruit contains chemicals known as anthocyanosides, plant pigments that have excellent antioxidant properties. They scavenge damaging particles in the body known as free radicals, helping to prevent or reverse damage to cells. Antioxidants have been shown to help prevent a number of long-term illnesses such as heart disease, cancer, and an eye disorder called macular degeneration. Bilberry also contains Vitamin C, which is another antioxidant.
Basic Information of Bilberries extract
Plant source: Bilberries extract
Latin Name:Vaccinium myrtillus L.
Part of used: Fruit Juice
Appearance : Purple red powder to brown yellow powder
Active Ingredient: Anthocyanidins, Anthocyanins (Anthocyanosides )
Specification:

1:1, 5:1, 10:1, 20:1, 20:1
Anthocyanidins 5%,7%,13% 15%,20%,25% ( by UV)
Anthocyanins(Anthocyanosides )20%,25%,35% (by HPLC)


Standard: GMP,Kosher,HALAL,ISO9001,HACCP.
The Source:
Bilberries are any of several primarily Eurasian species of low-growing shrubs in the genus Vaccinium (family Ericaceae), bearing edible, nearly black berries. The species most often referred to is Vaccinium myrtillus L., but there are several other closely related species. Bilberries are distinct from blueberries but closely related to them.
Bilberries are found in acidic, nutrient-poor soils throughout the temperate and subarctic regions of the world. They are closely related to North American wild and cultivated blueberries and huckleberries in the genus Vaccinium. One characteristic of bilberries is that they produce single or paired berries on the bush instead of clusters, as the blueberry does. Blueberries have more evergreen leaves.
Function
Bilberries contain diverse anthocyanins, including delphinidin and cyanidin glycosides. Bilberries have been used in a variety of folklore and traditional medicine;
To help improve vision acuity and relieve eye fatigue. Often associated with improvement of night vision, bilberries are mentioned in a popular story of World War II RAF pilots consuming bilberry jam to sharpen vision for night missions.
Strong antioxidant activity,which is good for skin of beauty.
To help prevent against Diabetes and Diabetic Retinopathy.
Product Applications
DRUG USE: Bilberry fruit was used to treat diarrhea, scurvy, and other conditions. It's very effective in treating diarrhea, menstrual cramps, eye problems, varicose veins, venous insufficiency (a condition in which the veins do not efficiently return blood from the legs to the heart), and other circulatory problems including diabetes.
FOOD ADDITIVES:With so many healthy functions, bilberry extract is also added to food to strengthen the flavor of food and benefit human health at the same time.
COSMETICS: Helpful to improve skin situation. It's effective in fading out freckle, wrinkle and making skin smooth.
Don't miss your chance to:
Get Free Sample
Enjoy All-inclusive packages include TDS,COA, MOP, MSDS etc.
Source the latest innovative products
Unconditional refund if unqualified
Keep up to date with the latest trends
Test and analyze your ingredients free of charge
Includes free entry to our trade show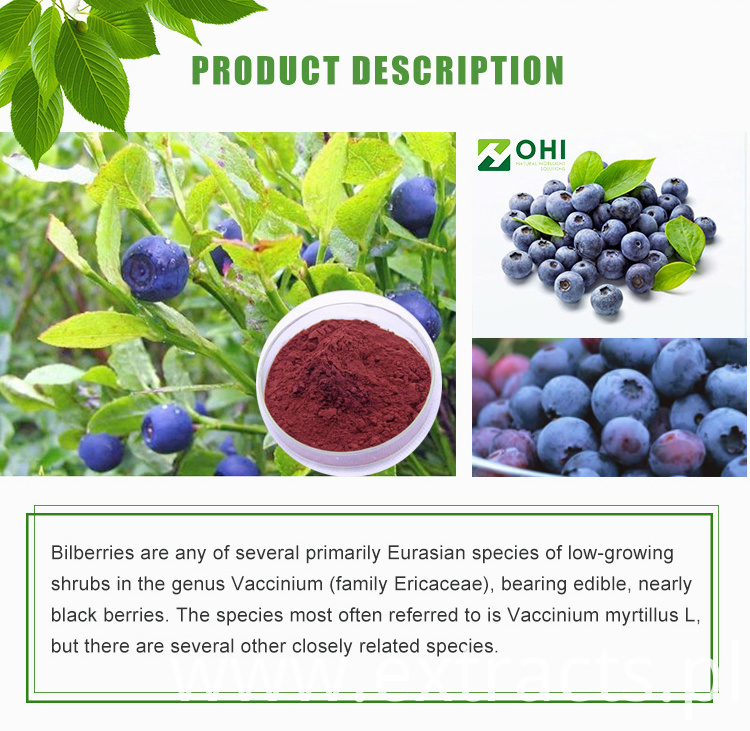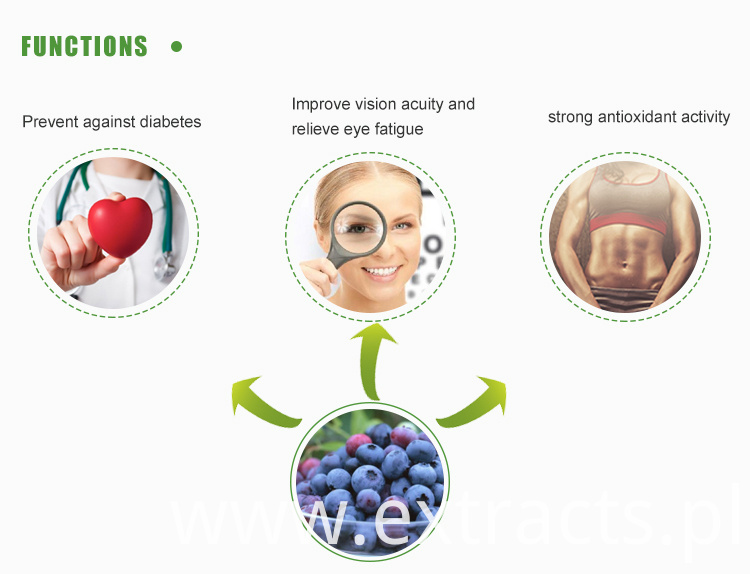 Looking for ideal Europe Bilberries Extract Manufacturer & supplier ? We have a wide selection at great prices to help you get creative. All the Vaccinium Myrtillus Extract are quality guaranteed. We are China Origin Factory of Bilberry Fruit Extract. If you have any question, please feel free to contact us.
Product Categories : Ratio Plant Extracts