What is Tongkat Ali (Longjack) Extract?
Eurycoma longifolia jack, commonly known as Tongkat Ali, Malaysian Ginseng, or Longjack is a very exotic and powerful plant which has been used in traditional medicine practices in Southeast Asia for its antimalarial, aphrodisiac, anti-diabetic, antimicrobial, anti-ulcer and antipyretic activities. Moreover, in vitro studies have been carried out on the plant's cytotoxic activity against cancer cells. The plant's pharmacological activity is attributed to various quassinoids icluding eurycomanone and eurycomanol, squalene derivatives, biphenylneolignans, tirucallane-type triterpenes, canthine-6-1, and beta-carboline alkaloids etc.
Adulterate Problem in Tongkat Ali
(Longjack)
Extract Industry
?
Tongkat Ali Extract products stating various ratios are common on the market. However, according to the New York Times and Washington Post, in 2015, the New York attorney general examined major brand supplements and found them to be mostly fillers. (read more: [Detection and Quantification of Eurycomanone Levels in Tongkat Ali Herbal Products]) In Malaysia, more evidences showed that more than 41% of the commercially available Tongkat Ali product samples contained no eurycomanone and 24% contained measly eurycomanone. Amount the adulterated products 12 of them were purchased from Amazon and some were from know brands that were registered with the Malaysian health department and FDA ,proving that FDA and other health organization registration numbers can not garenttee the authenticity of a product.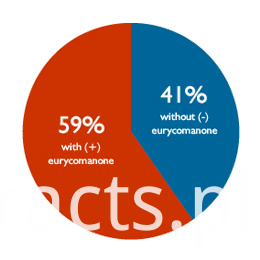 The fundamental cause of this issue is because currently there is no unified standardized qualification criteria in the industry so that it is impossible to verify the genuineness of the product. As a result, there are many Tongkat Ali products are found be fake which contained no eurycomanone at all.
Why OHI Standard Tongkat Ali Extract Product?
To address this condition OHI studied and developed standardized Tongkat Ali extract. A standardized extract is an extract that contains a concentrated and set percentage of active ingredients that has been HPLC tested. In the case of Tongkat Ali, eurycomanone is the most commonly studied constituent. Therefore, OHI provides HPLC tested Tongkat Ali extract with standardized Eurycomanone to ensure the authenticity and potency of the product.
Some brands will claim ridiculous amounts of eurycomanone such as 25%, but their legitimacy are highly questionable as eurycomanone 25% extracts are normally only available from R&D laboratories which cost more than 10,000 dollars per kilo and will lose many other beneficial constituents in Tongkat Ali. OHI supplies standardized Tongkat Ali extract that comes up to the legal required standard in Malaysia (eurycomanone 0.8-1.5 w/v (%)) in order to guarantee the genuineness as well as the overall quality of the product.
Basic Information of Tongkat Ali Bark Extract
Botanical source:Tongkat Ali Extract
Latin Name: Eurycoma Longifolia
Part of Plant Used: Bark
Active Ingredients: eurycomanone
Specifications: Eurycomanone 1% 2%
Testing Method: HPLC
Appearance: Yellow Brown Powder
Standard: GMP,Kosher,HALAL,ISO9001,HACCP.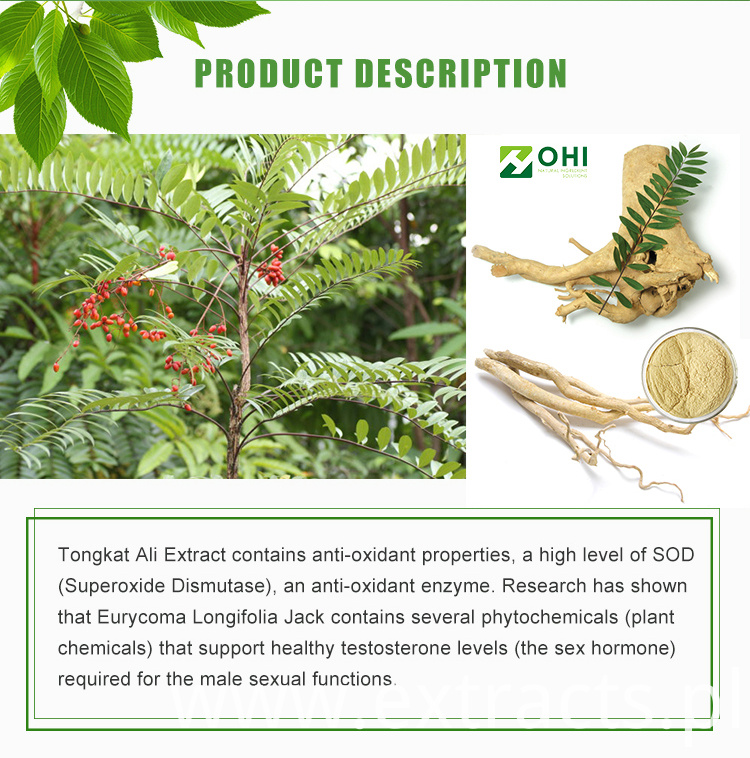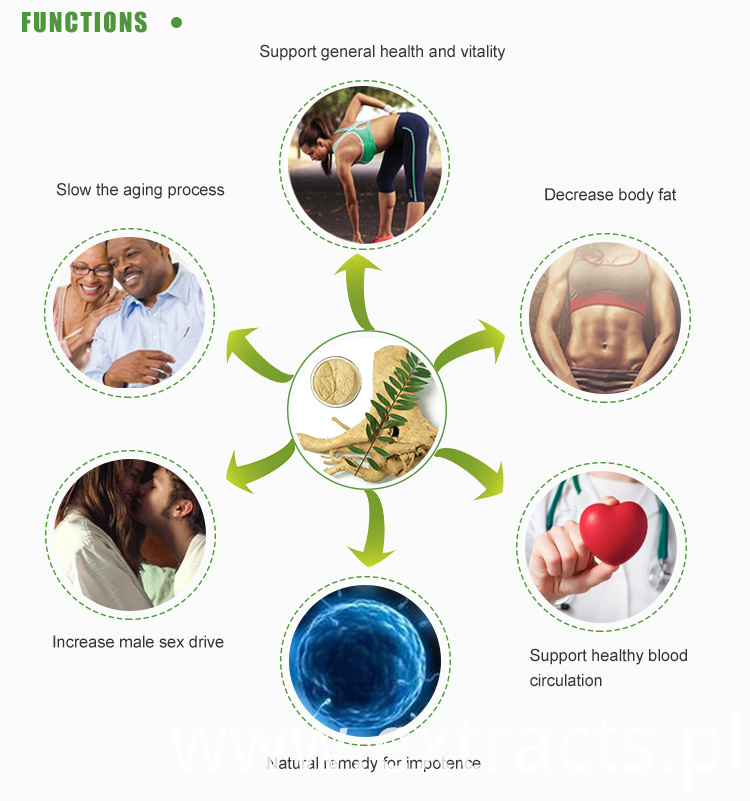 Looking for ideal Long Jack Powder Manufacturer & supplier ? We have a wide selection at great prices to help you get creative. All the Tongkat Ali Extract are quality guaranteed. We are China Origin Factory of Eurycoma Longifolia Powder. If you have any question, please feel free to contact us.
Product Categories : Natural Sex Enhancing Ingredient