Paprika oleoresin (also known as paprika extract, Capsicum Red Pigment, Paprika oleoresin), belonging to carotene, is a kind of oily liquid refined from chilies under the process of making granulation, precritical extraction, concentration and saponification. Its main components are capsanthin and capsorubin. Paprika oleoresin is an oil-soluble extract from the fruits of Capsicum annuum or Capsicum frutescens, and is primarily used as a colouring and/or flavouring in food products. It is composed of capsaicin, the main flavouring compound giving pungency in higher concentrations, and capsanthin and capsorubin, the main colouring compounds (among other carotenoids).
Basic Information of Paprika oleoresin
Plant source: Paprika Red Pigment
Latin Name: Capsium
Part of used: Fruit
Active Ingredient: Paprika Oleoresin
Standard: GMP,Kosher,HALAL,ISO9001,HACCP.
Specification
1.Oil-soluble
Appearance:Dark red liquid,soluble in lipin,ethanol etc. insoluble in water
Specification:
Color value 100??250 E (66,000CU??150,000CU)
Capsaicin content:<= 0.01%
Solvent Residual:<= 25PPM
As:<= 2.0mg/kg
Pb:<= 3.0mg/kg
2.Water-soluble
Appearance:Red liquid, dispersed evenly in the water.
Specification:
Color value 10??90 E (6,600CU~60,000CU)
Capsaicin content:<= 0.005%
Solvent Residual:<= 25PPM
As:<= 2.0mg/kg
Pb:<= 3.0mg/kg
The Source:
Bilberries are any of several primarily Eurasian species of low-growing shrubs in the genus Vaccinium (family Ericaceae), bearing edible, nearly black berries. The species most often referred to is Vaccinium myrtillus L., but there are several other closely related species. Bilberries are distinct from blueberries but closely related to them.
Bilberries are found in acidic, nutrient-poor soils throughout the temperate and subarctic regions of the world. They are closely related to North American wild and cultivated blueberries and huckleberries in the genus Vaccinium. One characteristic of bilberries is that they produce single or paired berries on the bush instead of clusters, as the blueberry does. Blueberries have more evergreen leaves.
Function
Bilberries contain diverse anthocyanins, including delphinidin and cyanidin glycosides. Bilberries have been used in a variety of folklore and traditional medicine;
To help improve vision acuity and relieve eye fatigue. Often associated with improvement of night vision, bilberries are mentioned in a popular story of World War II RAF pilots consuming bilberry jam to sharpen vision for night missions.
Strong antioxidant activity,which is good for skin of beauty.
To help prevent against Diabetes and Diabetic Retinopathy.
Product Applications
Used in Food industry, it is commonly used in food products to provide added spice or "heat" (piquancy); pigment.
Used in Research, Capsaicin is used as an analgesic in topical ointments, nasal sprays (Sinol-M), and dermal patches to relieve pain, typically in concentrations between 0.025% and 0.25%.
Used in Pepper spray and pests, Capsaicin is also an active ingredient in riot control and personal defense pepper spray agents.
Used in Equestrian sports, Capsaicin is a banned substance in equestrian sports because of its hypersensitizing and pain-relieving properties.
Used in Mechanism of action, The burning and painful sensations associated with capsaicin result from its chemical interaction with sensory neurons.
Don't miss your chance to:
Get Free Sample
Enjoy All-inclusive packages include TDS,COA, MOP, MSDS etc.
Source the latest innovative products
Unconditional refund if unqualified
Keep up to date with the latest trends
Test and analyze your ingredients free of charge
Includes free entry to our trade show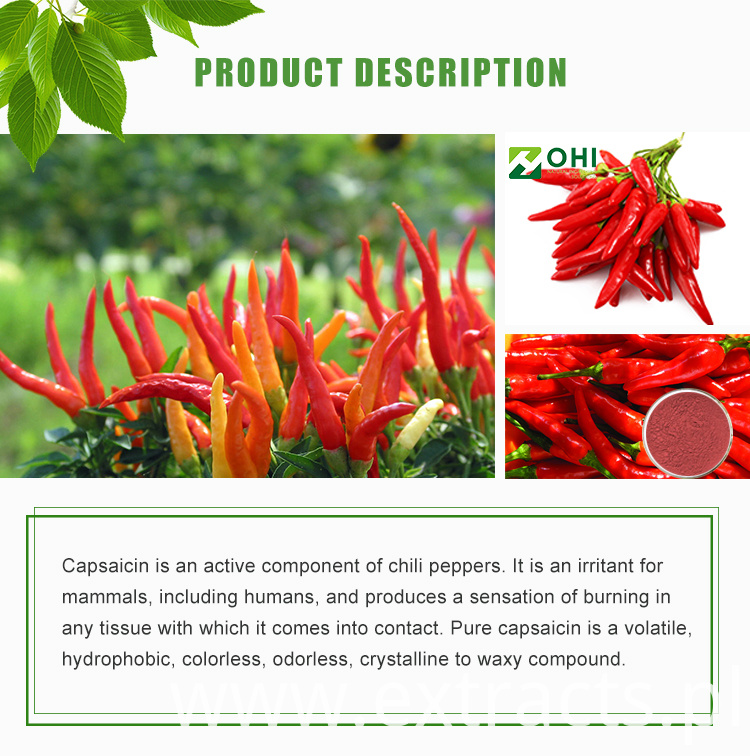 Looking for ideal Paprika Oleoresin Pigment Manufacturer & supplier ? We have a wide selection at great prices to help you get creative. All the Capsicum Red Pigment are quality guaranteed. We are China Origin Factory of Red Chilli Color. If you have any question, please feel free to contact us.
Product Categories : Natural Colors / Pigments