Food grade Monk Fruit Juice Powder is extract from luo han guo (Momordica grosvenori Swingle ), which is the best natural sugar for the one who is afraid to be fat and diabetes. The active ingredient of Monk Fruit Juice Powder is Mogrosides, it's a chemical compound include: Mogroside V, Mogroside VI, Mogroside II A1, Mogroside II B, 7-Oxomogroside II E, Mogroside III A2 etc. Non nutritive Sweetener and Flavor Enhancer. Use in flavors, foods, beverages, gums, baked goods,dietary supplements, powdered drinks, nutritional bars, and chocolates, etc. masks tastes.
Basic Information of Monk Fruit Juice Powder
Plant source: Monk Fruit Juice Powder
Latin Name: Momordica grosvenori Swingle
Part of used: Fruit
Appearance : Light yellow to white powder
Active Ingredient: Mogroside V
Specification:

10:1,15:1,20:1
7%,30%Mogrosides
80% Mogrosides/ 25% Mogroside V
90% Mogrosides/30% Mogroside V(Yellow Powder)
90% Mogrosides/30% Mogroside V(White Powder)
40% Mogroside V(Yellow Powder)
40% Mogroside V HPLC (White Powder)
50% Mogroside V HPLC
Monk Fruit Juice Powder

Active Ingredient: Mogrosides, Mogroside V
CAS No.:89590-95-4
Mol. Formula: C60H102O29
Mol. Weight: 1287.43
Standard: GMP,Kosher,HALAL,ISO9001,HACCP.
Advantage: GRAS,· Non-GMO,· Allergen-free,· Kosher/Halal certified
The Source:
Modern medical studies have proven that it contains one kind of sweetener that is more than 300 times sweeter than cane sugar. More importantly, it produces no calories. For that reason, it becomes the best sugar substitute for those who can`t eat sugar, for example patients of obesity and diabetes.
It mainly contains non-sugar natural sweetener - the triterpenoid glycosides, which include mogroside (esgoside), mogroside, and D-mannitol. According to the result of a measurement, the natural sweetness of them is 300 times of cane sugar. And it still contains large amounts of glucose, 14% fructose, protein, Vitamin C, and 26 kinds of inorganic elements like manganese, iron, nickel, selenium, tin, iodine, molybdenum and others. What`s more, fatty acids include linoleic acid, oleic acid, palmitic acid, stearic acid, palmitic acid, myristic acid, lauric acid, and decanoic acid.
Function
Sugar and Syrup Substitution:Sweetness 300+ times as sweet as table sugar [sucrose], is a natural, very sweet (300 times sweeter than cane sugar), non caloric, powdered concentrate from Luo Han fruit. The active components are triterpene glucosides called mogrosides. Mogrosides are clarified from Luo Han fruit using a patented process involving hot water, a resin column, and spray-drying. The mogrosides are clarified using this process, yield a fine powder that has greater than 80% total glucoside content with a mogroside V (the sweetest.of the mogrosides) greater than 30%;
Traditiona TCM Uses: Monk Fruit Juice Powder (Mogroside) has been used in traditional Chinese medicine for colds, coughs, sore throats, gastrointestinal disorder, as well as a blood purifier;
Monk Fruit Juice Powder (Mogroside) is easily soluble in water without any sediment:The Extract contains 80% or greater Mogroside. Mogroside is 300 times sweeter than cane sugar and is low in calories. It is a stable, non-fermentable additive ideal for Diabetics;
Nutritional Content: Monk Fruit Juice Powder (Mogroside) contains high amounts of amino acids, fructose, vitamins and minerals. It is also used in traditional Chinese cooking for flavor and nutrition. It is a versatile natural sweetener that is ideally suited to replace artificial sweeteners such as aspartame. It works well in beverages, baked foods, nutritional foods, diet foods or any food product that requires either a low to no carbohydrate sweetener or low to no calories. Cooking or baking does not affect the flavor or sweetness of it.( monk Fruit Extract Powder)
Product Applications
Applied in food field, luo han guo powder used as a natural sweetener;
Applied in health product field, luo han guo powder used as raw materials;
Applied in cosmetics field, Monk Fruit Juice Powder make skin smooth.
Don't miss your chance to:
Get Free Sample
Enjoy All-inclusive packages include TDS,COA, MOP, MSDS etc.
Source the latest innovative products
Unconditional refund if unqualified
Keep up to date with the latest trends
Test and analyze your ingredients free of charge
Includes free entry to our trade show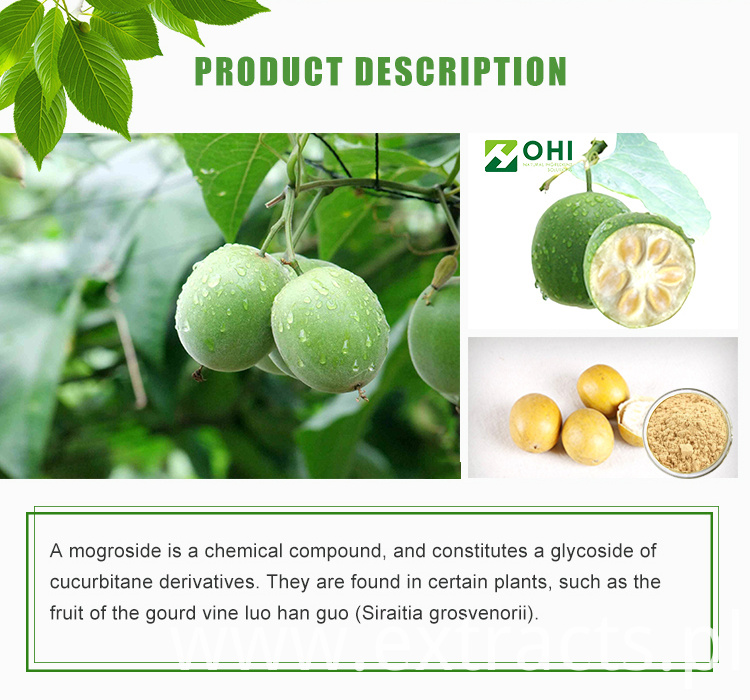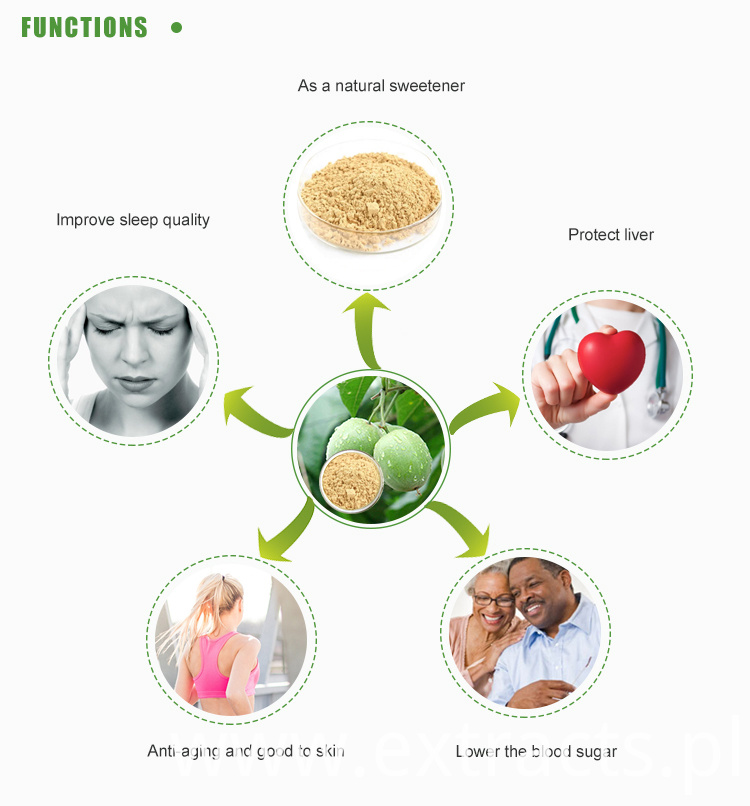 Looking for ideal Monk Fruit Juice Powder Manufacturer & supplier ? We have a wide selection at great prices to help you get creative. All the Luo Han Guo Juice Powder are quality guaranteed. We are China Origin Factory of Monk
Fruit Powder
. If you have any question, please feel free to contact us.
Product Categories : Fruit & Vegetable Powder / Juice powder