Lycopene is extract from the fruit of Tomato (Solanum lycopersicum L.). The main active ingredients of Tomato Extract is Lycopene. Lycopene may be the most powerful carotenoid quencher of singlet oxygen, being 100 times more efficient in test tube studies of singlet-oxygen quenching action than vitamin E, which in turn has 125 times the quenching action of glutathione. Most often paired with images of plump, vine-ripened tomatoes, lycopene is a nutrient that holds promise as a wonderful antioxidant. Lycopene belongs to the carotenoid family, which includes beta-carotene, lutein and zeanthin. Like its kin, lycopene intake seems to greatly benefit the body.
Basic Information of Tomato Extract Lycopene
Product Name: Tomato Extract
Botanical Name: Solanum lycopersicum L.
Part Used: Fruit
Active Ingredient: Lycopene
Specification:

Extract Ratio 4:1 to 20:1
1%~98% Lycopene

Test Mothod: HPLC
CAS No.: 502-65-8
Molecular formula: C40H56
Appearance: Fine Brownish red powder
Standard: GMP, Kosher, HALAL, ISO9001, HACCP.
Source
Tomatoes are often referred to the edible, often small to moderately sized, round red fruits of the tomato plant (Lycopersicum esculentum). The perennial plants in its native habitat, now often grown as an annual nightshade plant across globe. The species originated in Central and South America and its use as a food originated in Mexico, and spread throughout the world. Tomatoes are considered both fruits and vegetables and form an integral part of cuisines all across the globe, especially in the Mediterranean region. And as it was cultivated, the species has been renamed from Lycopersicum esculentum to Solanum lycopersicum.
Main Bio-actives
The many health benefits of tomatoes can be attributed to their wealth of organic compounds like carotenoids that can confer to our health. Carotenoids are found to be one of the major classes of phytochemicals in this fruit. The most abundant carotenoid in tomato is lycopene, followed by phytoene, phytofluene, zetacarotene, gamma-carotene, beta-carotene, neurosporene, and lutein.
Lycopene is a bright red carotene and carotenoid pigment and phytochemical that often taken by people preventing heart disease, "hardening of the arteries" (atherosclerosis); and cancer of the prostate, breast, lung, bladder, ovaries, colon, and pancreas. Lycopene is also used for treating human papilloma virus (HPV) infection, which is a major cause of uterine cancer. Some people also use lycopene for cataracts and asthma.
Lycopene from tomatoes has been tested in human studies for cardiovascular diseases and prostate cancer. These studies, however, did not attain sufficient scientific agreement to conclude an effect on any disease. The FDA, in rejecting manufacturers' requests in 2005 to allow "qualified labeling" for lycopene and the reduction of various cancer risks, stated: "...no studies provided information about whether lycopene intake may reduce the risk of any of the specific forms of cancer. Based on the above, FDA concludes that there is no credible evidence supporting a relationship between lycopene consumption, either as a food ingredient, a component of food, or as a dietary supplement, and any of these cancers."
A 2011 Cochrane review found insufficient evidence for any effect lycopene might have on prostate symptoms, PSA levels or prostate cancer.
Function
Lycopene is widely used in food industry as natural colorant.
Lycopene can prevent and suppress cancer.
Protect cardiovascular system.
Anti-ultraviolet radiation.
Suppression mutagenesis.
Also lycopene has the function of anti-aging and enhancing immunity.
Improving skin allergies.
Product Applications
Applied in pharmaceutical field, it is used to preventing cancer and diabetes mellitus.
Applied in cosmetics field, it owns the effect of whitening, dispelling spot, anti-wrinkle, activating skin cells, making skin more tender and firm.
Applied in women health product, it is often used in relieving menopause discomfort.

Don't miss your chance to:
Get Free Sample
Enjoy All-inclusive packages include TDS,COA, MOP, MSDS etc.
Source the latest innovative products
Unconditional refund if unqualified
Keep up to date with the latest trends
Test and analyze your ingredients free of charge
Includes free entry to our trade show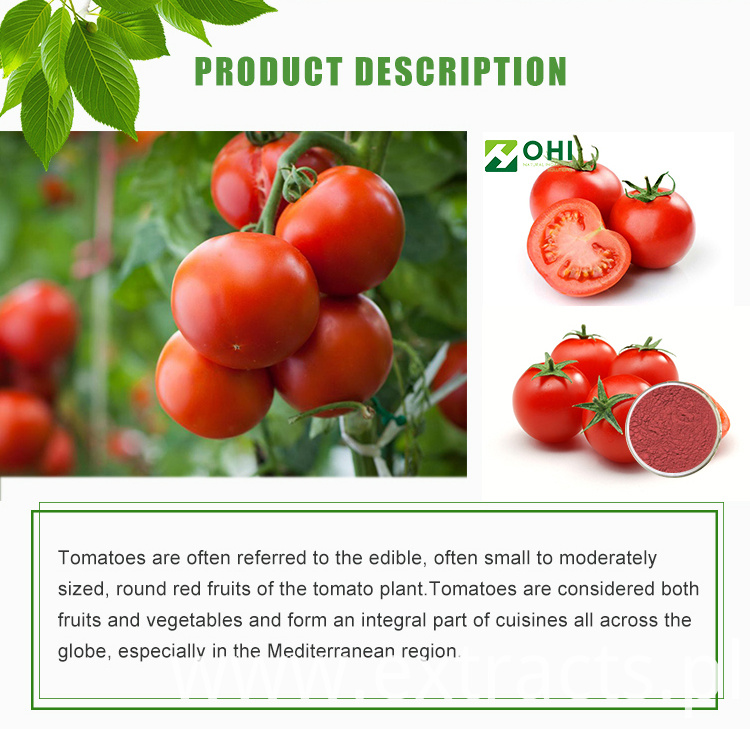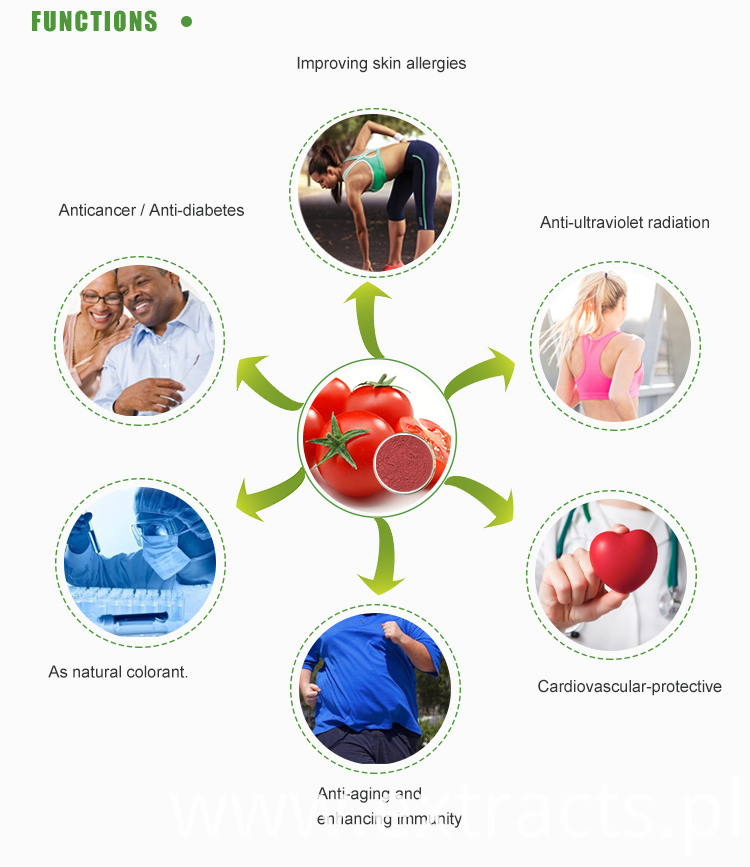 Looking for ideal
Tomato Extract Powder
Manufacturer & supplier ? We have a wide selection at great prices to help you get creative. All the Tomato Extract Lycopene are quality guaranteed. We are China Origin Factory of Tomato Lycopene Powder. If you have any question, please feel free to contact us.
Product Categories : Anti-cancer & Anti-tumor Ingredient