Eriocitrin is extract from the peel of Sweet Orange (Citrus Sinensis(L.) Osbeck). Eriocitrin (eriodictyol 7-O-β-rutinoside), a flavonoid glycoside, is the key flavonoid in lemon fruit (citrus limon). Eriocitrin is very elusive and is the most soluble of all flavonoids. Citrus sinensis Extract Eriocitrin a strong antioxidant effect, long used as a beverage, food and alcohol antioxidants. Oxidative stress eriocitrin inhibits rat liver induced by acute exercise, hypolipidemic, antioxidant ability of hesperidin and naringin etc.
Basic Information of Citrus Sinensis Extract Eriocitrin
Name : Citrus Sinensis Extract Eriocitrin
Other Name: Sweet Orange Peel Extract Eriocitrin
Extract part: Peel
Botanical Name : Citrus Sinensis(L.) Osbeck
Spec : 98%
Test method: HLPC
CAS No.: 13463-28-0
Molecular Formula: C27H32O15
Molecular Weight: 596.53398
Appearance: Fine Greyish White powder.
Country of origin: P.R. China
The Source:
Citrus sinensis(L.)Osbeck is a small, shallow-rooted evergreen shrub or tree about 6-13 m high that is grew across subtropical and tropical area as a fruit tree . As a self-fertile tree its flowers are hermaphrodite (have both male and female organs) and are pollinated by Apomictic, insects. The fruit of Citrus sinensis(L.)Osbeck in the family Rutaceae is considered a sweet orange. The orange fruit is an important agricultural product, used for both the juicy fruit pulp, and the aromatic peel (rind). Orange blossoms (the flowers) are used in several different ways, as are the leaves and wood of the tree.
Sweet orange contains large amounts of Vitamin C and is used to increase appetite; reduce phlegm; and treatcoughs, colds, intestinal gas (flatulence), acid indigestion (dyspepsia), and cancerous breast sores. It is also used as a tonic. Sweet orange juice is used for treating kidney stones (nephrolithiasis) and high cholesterol; and preventing high blood pressure and stroke, as well as prostate cancer. Sweet orange fruit and sweet orange juice are used to prevent kidney stones because they contain large amounts of a chemical called citrate. Citrate tends to bind with calcium before it can form kidney stones.
What's Eriocitrin
Eriocitrin is a flavanone-7-O-glycoside between the flavanone eriodictyol and the disaccharide rutinose.[this is from citrus fruit,Citrus is a common term and genus (Citrus) of flowering plants in the rue family, Rutaceae.The most recent research indicates an origin in Australia, New Caledonia and New Guinea. Some researchers believe that the origin is in the part of Southeast Asia bordered by Northeast India, Burma (Myanmar) and the Yunnan province of China, and it is in this region that some commercial species such as oranges, mandarins, and lemons originated. Citrus fruit has been cultivated in an ever-widening area since ancient times; the best-known examples are the oranges, lemons, grapefruit, and limes. Despite some superficial similarities, pineapple is not closely related to citrus
Functions
Citrus Sinensis Extract Eriocitrin could prove beneficial as a food preservative slows the growth of bacteria and yeasts that cause food spoilage;
Citrus Sinensis Extract Eriocitrin might help reduce physical and psychological stress;
Citrus Sinensis Extract Eriocitrin may help to enhance the clarity, glow and softness of the skin;
Citrus Sinensis Extract Eriocitrin could anti-cancer, as pesticides, used for additives of functional food and feed etc;
Citrus Sinensis Extract Eriocitrin helps to treat problems related to indigestion and constipation;

Product Applications
As a nutrient ingredient in dietary supplements,beverage,food and confectionary.
Applied in health product field;
Applied in cosmetic field, as a kind of Raw Material, it can mix natural cosmetics.

Don't miss your chance to:
Get Free Sample
Enjoy All-inclusive packages include TDS,COA, MOP, MSDS etc.
Source the latest innovative products
Unconditional refund if unqualified
Keep up to date with the latest trends
Test and analyze your ingredients free of charge
Includes free entry to our trade show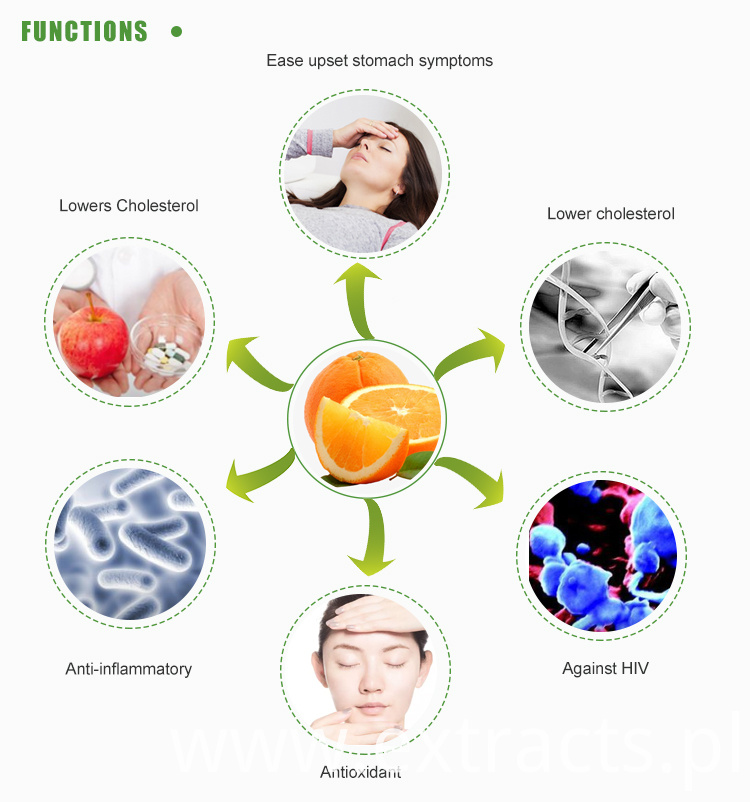 Looking for ideal Citrus Sinensis Extract Manufacturer & supplier ? We have a wide selection at great prices to help you get creative. All the Citrus Sinensis Eriocitrin are quality guaranteed. We are China Origin Factory of Eriocitrin Extract Powder. If you have any question, please feel free to contact us.
Product Categories : Active Pharmaceutical Ingredient (API)