Panax Ginseng Extract is extract from the root or leaf of Panax Ginseng (Asian Ginseng, Chinese Ginseng ). The main active ingredient of Panax Ginseng Extrac is Ginsenosides. Now OHI can supply USP and EP Standard Panax Ginseng Extract with Low Pesticide Residues.
Panax ginseng C.A. Meyer (ginseng) is a well-known medicinal plant that has been traditionally used in the oriental countries for centuries. Ginsenosides or panaxosides are a class of natural product steroid glycosides and triterpene saponins. Compounds in this family are found almost exclusively in the plant genus Panax (ginseng), which has a long history of use in traditional medicine that has led to the study of pharmacological effects of ginseng compounds.
Ginseng is generally consumed orally as a dietary supplement, and thus its component ginsenosides may be metabolized by gut flora. For example, ginsenosides Rb1 and Rb2 are converted to 20-b-O-glucopyranosyl-20(S)-protopanaxadiol or 20(S)-protopanaxadiol by human gut bacteria. This process is known to vary significantly between individuals. In some cases the metabolites of ginsenosides may be the biologically active compounds.
Basic Information of Panax Ginseng Extract (Low Pesticide Residues)
Plant source: Panax Ginseng Extract
Latin Name: Panax ginseng C. A. Mey
Part of used: Root or Leaf
Appearance : Brown yellow powder
Active Ingredient: Ginsenosides
Specification: 1 to 1, 4 to 1, 10 to 1, 20~80% Ginsenosides etc. (OEM services provide)
Standard: GMP, Kosher, HALAL, ISO9001, HACCP.
The Source:
Ginseng is any one of the 11 species of slow-growing perennial plants with fleshy roots, belonging to the genus Panax of the family Araliaceae. Ginseng is found in North America and in eastern Asia (mostly northeast China, Korea, Bhutan, eastern Siberia), typically in cooler climates. Panax vietnamensis, discovered in Vietnam, is the southernmost ginseng known. This article focuses on the species of the series Panax, which are the species claimed to be adaptogens, principally Panax ginseng and P. quinquefolius. Ginseng is characterized by the presence of ginsenosides and gintonin.
Siberian ginseng (Eleutherococcus senticosus) is in the same family, but not genus, as true ginseng. Like ginseng, it is considered to be an adaptogenic herb. The active compounds in Siberian ginseng are eleutherosides, not ginsenosides. Instead of a fleshy root, Siberian ginseng has a woody root.
Over centuries, ginseng has been considered in China as an important component of Chinese traditional medicine, but there is no scientific confirmation of it having any clinical benefit to human health.
Chemical structure
Most known ginsenosides are classified as members of the dammarane family. The structure of these dammarane ginsenosides consists of a 4-ring, steroid-like structure. To each ginsenoside is bound at least 2 or 3 hydroxyl groups at the carbon-3 and -20 positions or the carbon-3, -6, and -20 positions respectively. In protopanaxadiols, sugar groups attach to the 3-position of the carbon skeleton, while in comparison sugar groups attach to the carbon-6 position in protopanaxatriols. Well known protopanaxadiols include Rb1, Rb2, Rg3, Rh2, and Rh3. Well known protopanaxatriols include Rg1, Rg2, and Rh1.
Ginsenosides that are a member of the oleanane family are pentacylic, composed of a five ring carbon skeleton.
Biological effects
Most studies of the biological effects of ginsenosides have been in cell culture or animal models and thus their relevance to human biology is unknown. Effects on the cardiovascular system, the central nervous system, the immune system have been reported, primarily in rodents. Antiproliferative effects have also been described.
Many studies suggest that ginsenosides have antioxidant properties. Ginsenosides have been observed to increase internal antioxidant enzymes and act as a free-radical scavenger. Ginsenosides Rg3 and Rh2 have been observed in cell models as having an inhibitory effect on the cell growth of various cancer cells while studies in animal models have suggested that ginsenosides have neuroprotective properties and could be useful in treating neurodegenerative disease such as Alzheimer's and Parkinson's diseases.
Two broad mechanisms of action have been suggested for ginsenoside activity, based on their similarity to steroid hormones. They are amphiphilic and may interact with and change the properties of cell membranes. Some ginsenosides have also been shown to be partial agonists of steroid hormone receptors. It is not known how these mechanisms yield the reported biological effects of ginsenosides. The molecules as a class have low bioavailability due to both metabolism and poor intestinal absorption.
Function
Ginseng is effective for treating colds, coughs, rheumatism, neuralgia, gout, diabetes, anemia insomnia, stress, headache, backache and double vision.
It is helpful in normalizing menstruation and easing childbirth.
It against Periodontal Disease which is a progressive destruction of the supporting structures of the teeth.
Ginseng also counteracts the effects of physical and emotional stress, enhances memory, counteracts fatigue without caffeine, and improves stamina.
Ginseng stimulates the immune system, by spuring the production of the body's own virus fighting chemicals, helps reduce cholesterol levels in the blood, has anti-clotting effects, reducing risk of arterial blood clots;
It helps control diabetes by reducing blood sugar levels;
It is known as an antioxidant, preventing the cumulative cell damage researchers believe cumulates in cancer;
It protects the liver from the effects of drug, alcohol and toxins, minimizes cell damage from radiation, and increases intestinal absorption of nutrients.

Product Applications
Pharmaceutical
Functional Food
Beverage
Health Care Products
Cosmetics Industries
Don't miss your chance to:
Get Free Sample
Enjoy All-inclusive packages include TDS,COA, MOP, MSDS etc.
Source the latest innovative products
Unconditional refund if unqualified
Keep up to date with the latest trends
Test and analyze your ingredients free of charge
Includes free entry to our trade show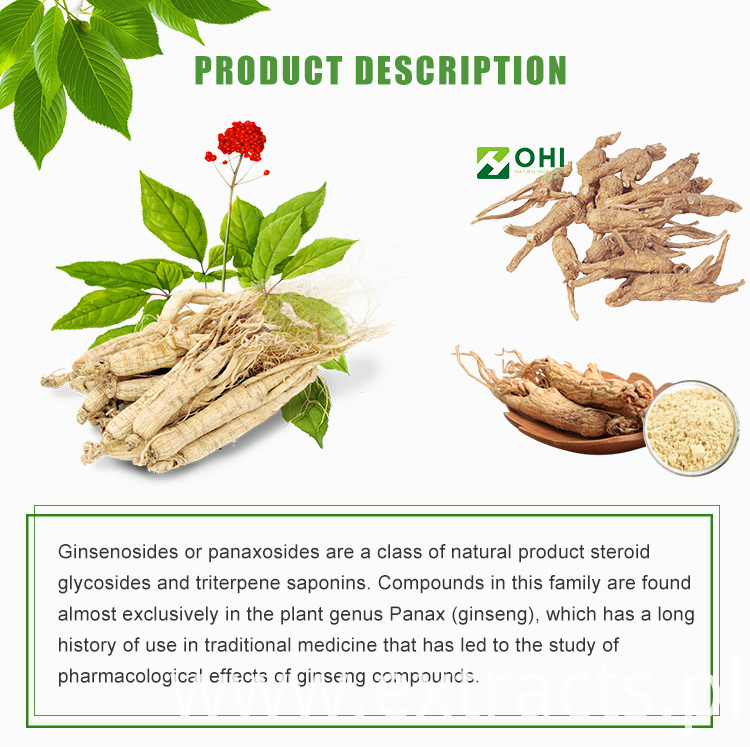 Looking for ideal Ginseng Extract Ginsenosides Manufacturer & supplier ? We have a wide selection at great prices to help you get creative. All the Ginsenoside Rg1 Powder are quality guaranteed. We are China Origin Factory of Ginseng Extract Low Pesticide Residues. If you have any question, please feel free to contact us.
Product Categories : Active Pharmaceutical Ingredient (API)