OHI is one of the leading China Eucommia Extract Chlorogenic acid manufacturers, welcome to wholesale cheapEucommia Extract, Chlorogenic acid, eucommia ulmoides extract powder from our factory. Chlorogenic acid is a phenolic natural product isolated from the leaves and fruits of dicotyledonous plants, including the coffee bean.The ester of caffeic acid with quinic acid, is one of the most abundant polyphenols in the human diet with coffee, fruits and vegetables as its major sources. Its antioxidant and anticarcinogenic properties have been well established in animal studies.
Basic Information of Eucommia Extract Chlorogenic acid
Name : Eucommia Ulmoides Extract Chlorogenic acid
Source: Eucommia Ulmoides (Cortex Eucommiae)
Extract part: Leaf
Botanical Name : Eucommia ulmoides oliv
Spec : 50%~88% Chlorogenic acid(s)
Test method: HPLC
Appearance: Fine white powder
Country of origin: P.R. China


The Source:
Eucommia ulmoides is a small tree that native to China ,also konwn as Du Zhong, Rubber Bark tree, Tochu, that has been highly valued in herbology such as traditional Chinese medicine since past and now Tea made from Eucommia ulmoides leaves is widely consumed as a health food due to its various pharmacological effects . It contains a collection of flavonoids ,Chlorogenic acid ,lignans and irioid compounds .
Researches shows Eucommia ulmoides possess activities in reducing preventing bone loss, inducing fat loss, preventing oxidative gastric injury,and reducing elevated blood pressure and triglycerides. The anti-obese effects of the plant have been confirmed to increase heat production in animal models and surprisingly potent among nutritional supplements.
Functions
Has antihypertensive effects: Chlorogenic acid has significant antihypertensive effect, which is smooth, and non-toxic without side effects;
Has anti-tumor effects: Modern pharmacological experiments show that chlorogenic acid has the effects of anti-cancer and tumor suppressor;
Has the effects of strengthening Kidney and enhancing immune function: experimental results show that chlorogenic acid can excite pituitary and adrenal cortex system and can enhance the function of the adrenal cortex;
Is Antioxidant, anti-aging, against free radicals, promoting metabolism;
Chlorogenic acid has antibacterial, anti-inflammatory effects. It decreases blood pressure and increases white blood cells and gastric peristalsis and secretion significantly;
Other functions: diuretic, gallbladder, blood fat, fetus protection;

Product Applications
Applied in food field, the coffee are most popular food among people;
Applied in pharmaceutical field, to be used as raw materials to reduce blood pressure;
Applied in cosmetic field, green bean oil can effectively regulate the skin, stimulate vigor and arouse the spirit.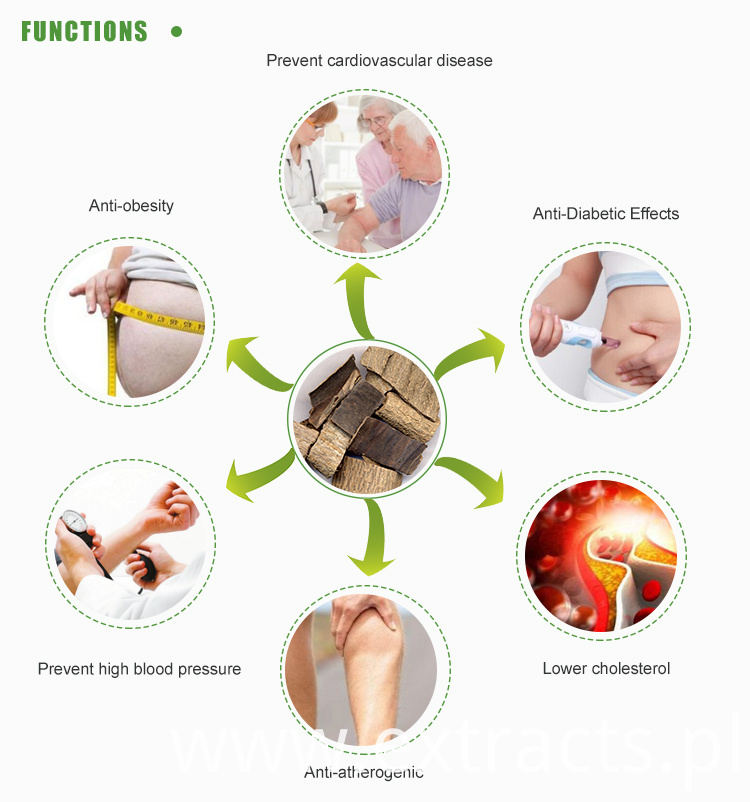 Looking for ideal Eucommia Ulmoides Extract Manufacturer & supplier ? We have a wide selection at great prices to help you get creative. All the
Chlorogenic Acids
are quality guaranteed. We are China Origin Factory of Eucommia Extract Chlorogenic Acid. If you have any question, please feel free to contact us.
Product Categories : Active Pharmaceutical Ingredient (API)