Celastrol extracted from Tripterygium Wilfordi plant has been reported on [Cell" as having potential as a leptin sensitizer in treating obesity. Tripterygium wilfordii (of the family Celastraceae) is a vine used in traditional Chinese herbal medicine that is referred to as léi gōng téng (Mandarin) but also well known as Thunder God Vine or Thunder Guke Vine.
Mainly grow in China the plant is known as toxic however its pharmacological effects appear against inflammatory and autoimmune diseases . In traditional Chinese herbal medicine the root pulp have effects (to use diction common to traditional medicine) for 'dispelling wind and eliminating dampness, dredging collaterals and relieving pain, reducing swelling and easing pain' therefore is used in treatment for fever, chills, edema, carbuncles and Rheumatoid Arthritis .Nowadays the investigation of Tripterygium wilfordii has expanded its potential usage to treat a variety of disorders including cancer, chronic hepatitis, chronic nephritis, ankylosing spondylitis, polycystic kidney disease, and obesity, as well as several skin disorders.
Although the vine being associated with adverse effects even at moderate doses (diarrhea, headache, nausea and infertility), there are have been progressive researches to investigate a safer usage of Tripterygium wilfordii.
Basic Information of Tripterygium wilfordii Extract Celastrol
Product Name: Tripterygium Wilfordii Extract
Latin Name: Radix et Rhizoma Tripterygii
Active Ingredient: Celastrol
CAS: 34157-83-0
Specification: 1:1, 10:1, 98%
Used Part: Root
Appearance: Fine red powder
Test Method: TLC & HPLC



The main bio-actives
Since Zhao C G first reported the extract of tripterine(Celastrol ) there are more than 70 compositions have been isolated from Tripterygium wilfordii .Most of those are alkaloids, diterpenes, triterpenoids, sesquiterpenoids and polyose.And the most well known constituents are Wilforine ,Triptolide and Celastrol.
Celastrol (tripterine) is a pentacyclic triterpenoid mainly isolated from the root extracts of Tripterygium wilfordii (Thunder god vine) and exhibits antioxidant ,anti-inflammatory ,
anticancer ,insecticidal activities as well as obesity-controlling effects in mice.
Triptolide is a diterpenoid epoxide that displays immunosuppressive and anti-inflammatory activity.It also has in vitro and in vivo activities against mouse models of polycystic kidney disease and pancreatic cancer.
Triptolide, a diterpene triepoxide, is a major active component of extracts derived from Tripterygium wilfordii as well. Triptolide has multiple pharmacological activities including anti-inflammatory, immune modulation, antiproliferative, and proapoptotic activity.
Functions:
Obesity-control
Contraception
Inflammation inhibition
Immunosuppression
Antitumor
Product application
Despite all modern advances in medicine, an effective drug treatment of obesity has not been found yet.Discovery of Leptin sensitizer is critical as the most powderful energy metabolism control hormone leptin is constantly facing resistance in obese body .Celastrol in tripterygium wilfordii has been indicated as a leptin sensitizer and a promising agent for the pharmacological treatment of obesity.
Also many researches relating tripterygium wilfordii pharmacology shown its positive effects against tumor ,HIV ,inflammatory and autoimmune disorder. In addition to medical applications, tripterygium wilfordii have potential as a very efficient and environmental-friendly insecticidal avail.
Main clinical applications of tripterygium wilfordii are : rheumatic arthritis(RA),lepra reaction ,lupus erythematosus(SLE),dermatomyositis , mixed connective tissue disease(MCTD),Sjogrensyndrome(SS),erythema multiforme ,various types of vasculitis and psoriasis.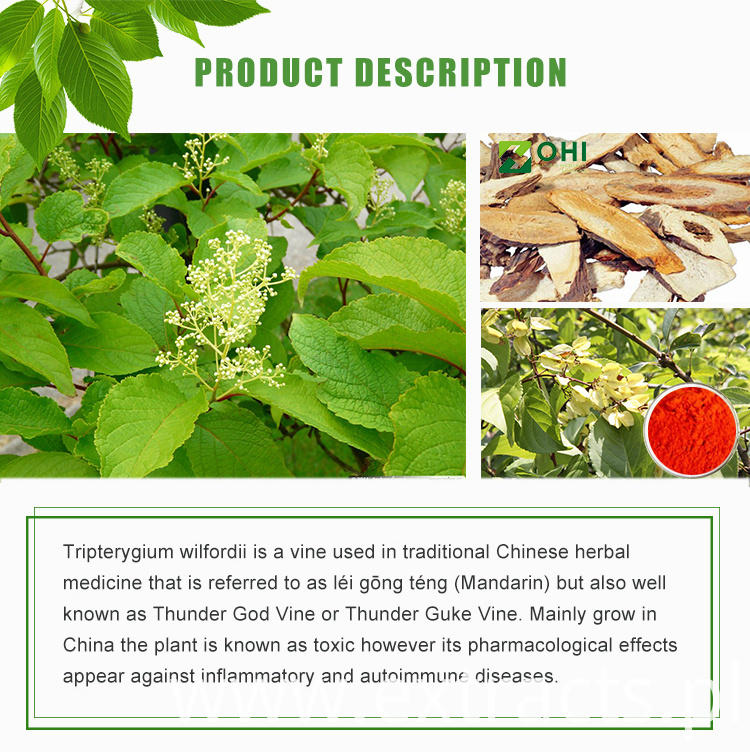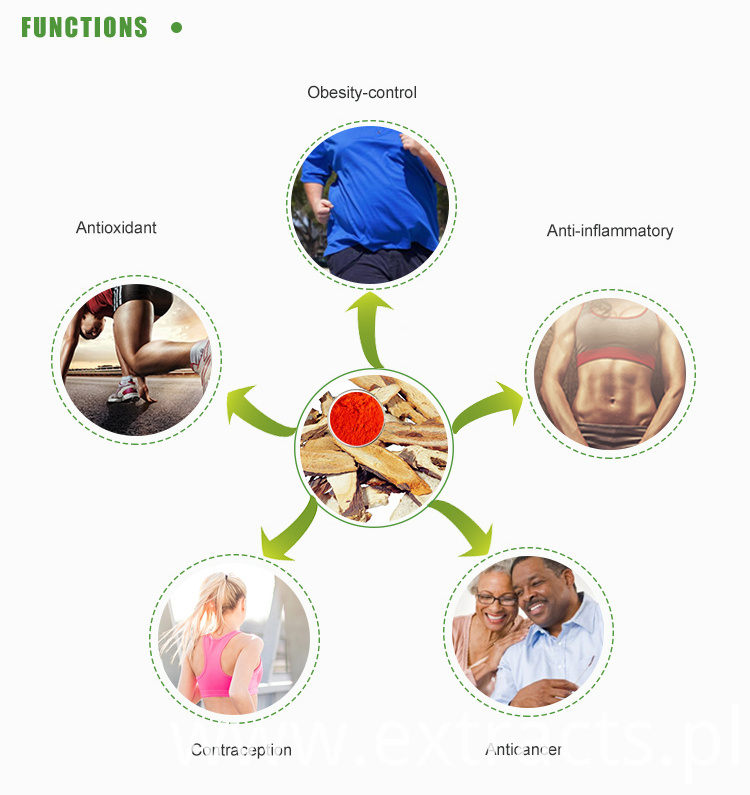 Looking for ideal Tripterygium Wilfordii Extract Manufacturer & supplier ? We have a wide selection at great prices to help you get creative. All the Celastrol 98 HPLC are quality guaranteed. We are China Origin Factory of Thunder God Vine Celastrol. If you have any question, please feel free to contact us.
Product Categories : Active Pharmaceutical Ingredient (API)